Author | Poet | Playwright | Teacher
After a three decade long career of owning and curating an award-winning gallery, Detroit native Diane DeCillis began her second career as a writer. Shortly after this career change, Diane was named a 2015 Michigan Notable Book, winner of the 2015 Next Generation Indie Book Award for Poetry, and a finalist for the Indie Fab Award for Poetry. Today, Diane continues her journey as a writer through her authorship of several books, poetry, short stories, and playwriting. Diane also conducts workshops and events live and zia Zoom upon request.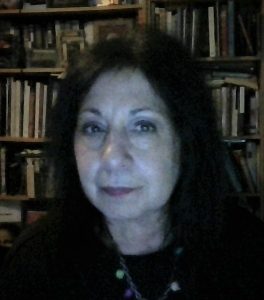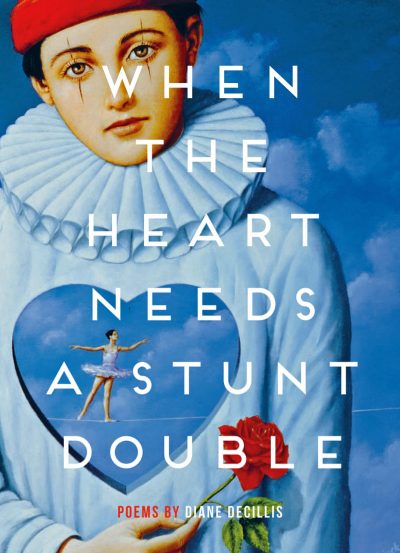 When The Heart Needs A Stunt Double
Who wouldn't want a metaphorical stunt double to take the perilous fall that comes with the pain of loss or profound disappointment? The poems in When the Heart Needs a Stunt Double by Diane DeCillis consider resourceful ways in which we become our own stunt double and explore through a poet's eyes the anatomy of the mind, body, and soul.
Diane DeCillis's latest collection, When the Heart Needs a Stunt Double, is that rare book that is both funny and momentous. Her lyrical evocations of people and places in Southeast Michigan are full of empathy, tenderness, and whimsical irony. DeCillis captures our humanity in all its moods—no small task—Wayne State University Press.
Purchase from the following retailers:
When the Heart Needs a Stunt Double selected for the American Academy of Poets 25th Anniversary Reading List for Poetry Month. When the Heart Needs a Stunt Double Made Publishers Weekly List!
Weathering the Times Poetry: 2021
"Diane DeCillis is the rare poet for whom nothing is impossible. Her poems can find Neruda in the kitchen in one moment, and dive into a black hole the next, pivoting from humor to heartache with remarkable ease. This is an electric collection, full of wit, wisdom, and depths of feeling."

Matthew Olzmann,
author of Contradictions in the Design
When a vase breaks, the Japanese mend it with gold, which is called kintsugi, or precious scars, and that's what Diane DeCillis is doing in this beautiful collection, taking the wounds of living and turning them on the wheel of her heart and mind. Damaged children mingle with Franz Liszt, Poe, Edvard Munch, and Pablo Neruda with 'the crazed puma prowling in the hollow street of hunger.' There is a plentitude in these pages that satisfies poetic appetite. Get ready to dig in."

Barbara Hamby​
author of Holoholo
"Diane DeCillis's When the Heart Needs a Stunt Double celebrates great swaths of life. From the joys and difficulties of her Lebanese heritage to her Michigan home, loss is countered by wide-ranging passion: parsley and Peeps, Duchamp and Hiroshige, Joe Louis and Isaac Newton. Erudite but never stuffy, insatiable and generous, this voice is an invitation to a stunning banquet of joy, humor, and tenderness. A feast."

Mary Jo Firth
author of Soluble Fish
"Diane DeCillis contains multitudes: paintings and hospital beds, and laughing, grieving voices. Her poems elucidate language itself, words in the act of being undressed—a mind in dialogue with a translator, a liar, and a lover. This remarkable volume carries 'a weight that lifts you / and buries you at once.'"

Michael LauchIan
author of Trumbull Ave. (Wayne State University Press, 2015)
"From Lady Baltimore to the Girl from Ipanema in Detroit—from Alfred Hitchcock's fear of eggs to Hokusai's 'Great Wave' at a poetry reading—the subjects in When the Heart Needs a Stunt Double are far-reaching and original. Diane DeCillis weaves her unmistakable magic in poems that are fierce and intelligent. She embraces the breadth of the world and the depth of the sky in this brilliant collection."

Linda Nemec Foster
author of The Blue Divide, Talking Diamonds, and Amber Necklance from Gdansk
"Wise and witty, artful and fierce, these poems take us to the heart of life—its joys, its sorrows, and, yes, its marshmallow Peeps! On every page—'as hunger migrates on massive wings'—DeCillis delights us, nourishes us. This book is a feast for the mind, the ear, the spirit."

Christine Rhein
author ofWild Flight
When the Heart Needs a Stunt Double selected for the American Academy of Poets 25th Anniversary Reading List for Poetry Month.
When the Heart Needs a Stunt Double Made Publishers Weekly List